Online reviews can make or break a business nowadays, which has unfortunately made reviews become a bit of a commodity with a lot of underhanded behaviour.
Similar to Amazon reviews, there is a growing number of cases where businesses are being caught out buying reviews.
Google has a lot of fake reviews
Similarly, a lot of people will leave negative reviews maliciously, while a lot fo the time this will be a genuine unhappy customer, some customers use the threat of negative reviews as a bargaining chip. Sometimes users will accidentally leave the review on the wrong page or accidentally select one star. Sadly, some competing businesses will also leave negative reviews or even buy negative reviews as a form of negative SEO.
This has led many businesses frustrated when they know the service, they provide is excellent but they are receiving unfair reviews.
It has always been possible to apply for takedowns of these reviews, but Google has never made the process easy or transparent.
How to manage your reviews with Google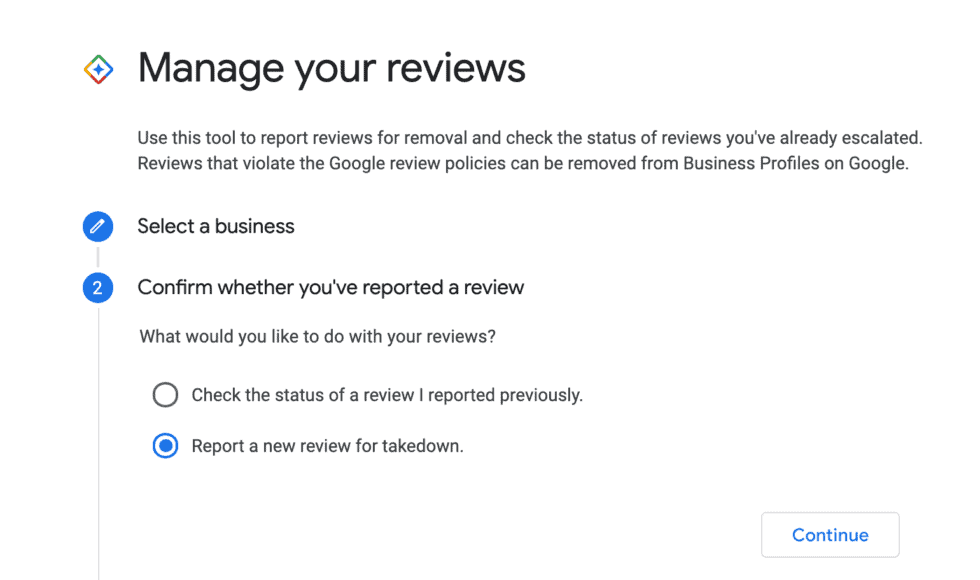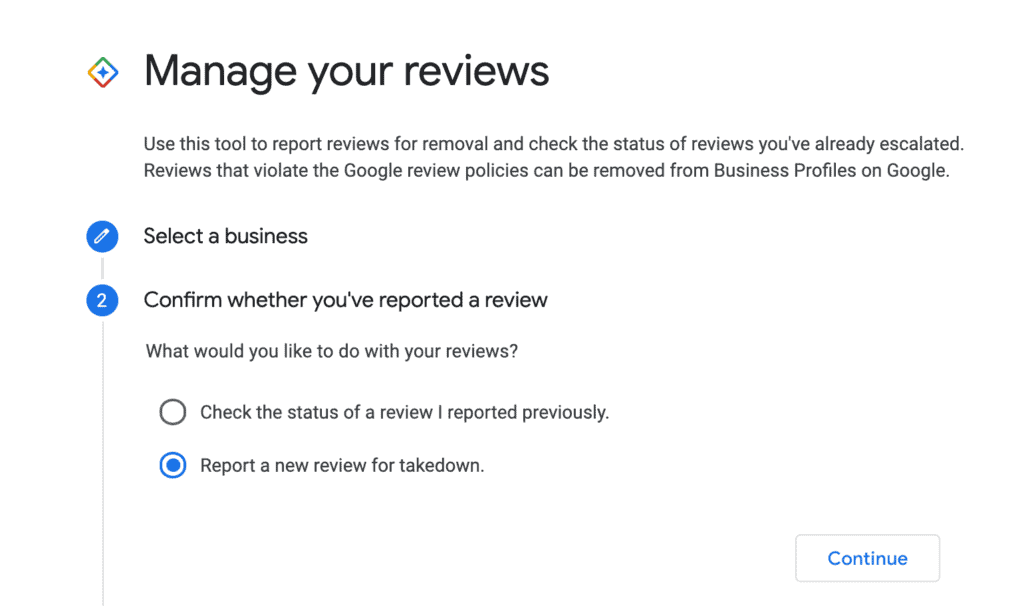 Now things have improved a little.
The newest feature in Google My Business allows business owners to see recent reviews on their listings in a single place and check the status of reviews they reported to Google.
The new tool is available here.
Step one is to select your business, then select if you want to check the status of a reported review or if you want to report a new review for a takedown.
After you select report a new review for a takedown, Google gives you a list of your recent reviews that you can click to view on Google Maps or submit a takedown request: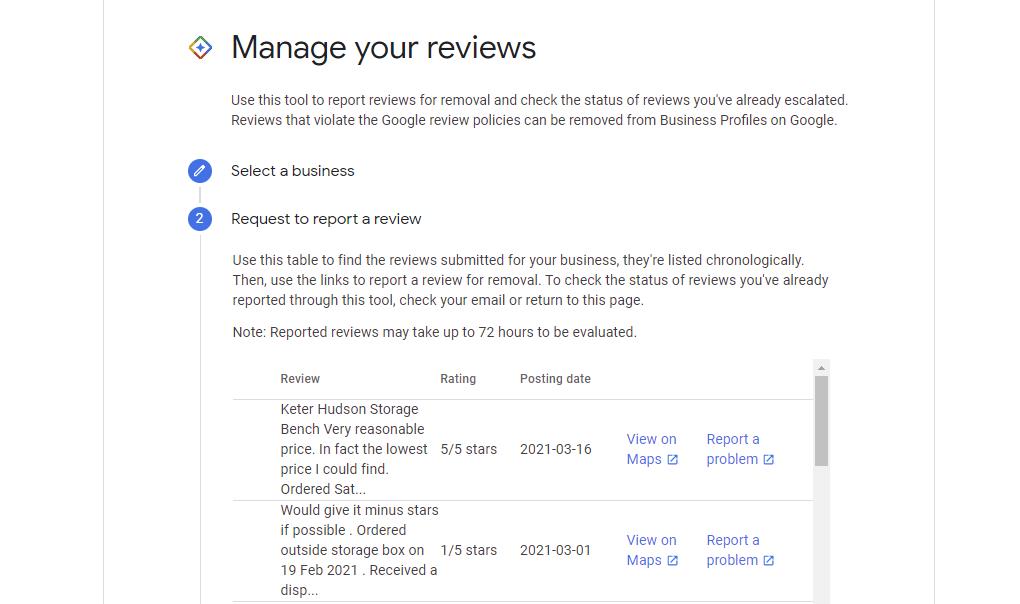 If you select the option to check the status of a review you previously reported, it will show you those reviews, including the current status.
You can then select that review to see more of a summary and even submit an appeal if your takedown request was not accepted.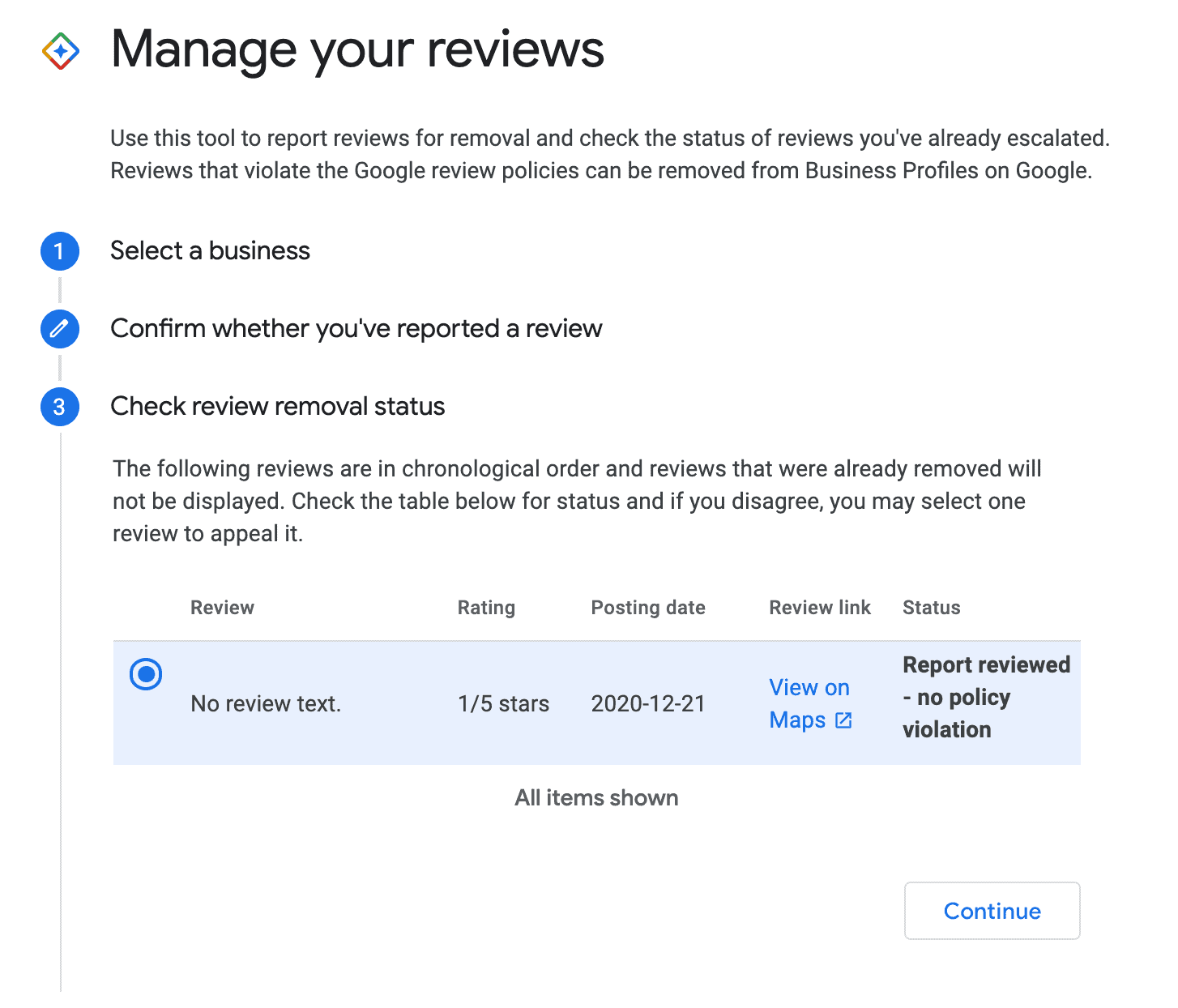 Overall
It is great to see that Google has simplified the takedown process and made it much easier to see what the result of the process was.
It is not something I would get overly excited about, though, if Google thinks the review is valid for any reason, then they will keep it there with nothing much you can do about it.