I briefly touched upon zero-click searches in a recent post about Google featured snippets.
The term is self-explanatory; this is when a user searches for something and then never follows through by clicking onto a website.
What are zero-click searches?
Zero-click searches have always been a thing; sometimes, you just don't need to click onto a website to find out information (I regularly use Google to check the spellings of things).
However, zero-click searches are growing significantly, and this is largely due to the way Google presents information within its search results.
2019 vs 2020 Zero-Click Searches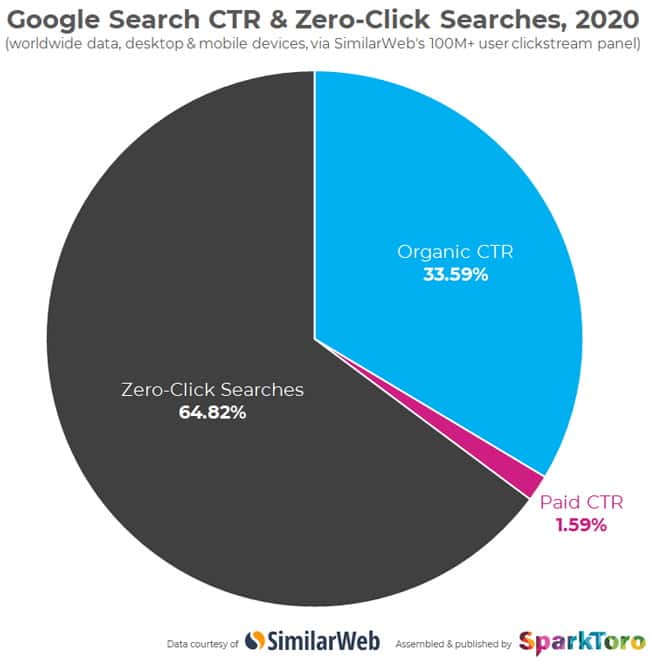 In June 2019, it was reported that just over half of all searches generated no follow-through clicks to a website, the three months prior to this sat at 49.76%.
In the latest piece of research, published by Rand Fishkin, of Moz fame, now Sparktoro, that number has increased by around 30%, going from half of all searches to pushing two thirds (64.82%).
Note – These figures are far from accurate, but it gives us an idea of the extent of zero-click searches.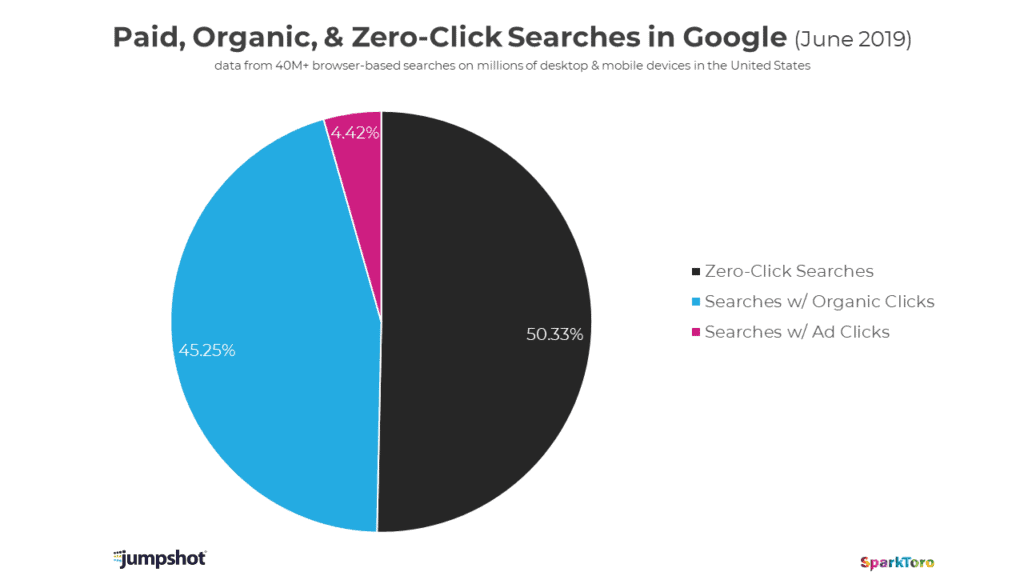 What causes zero-click searches?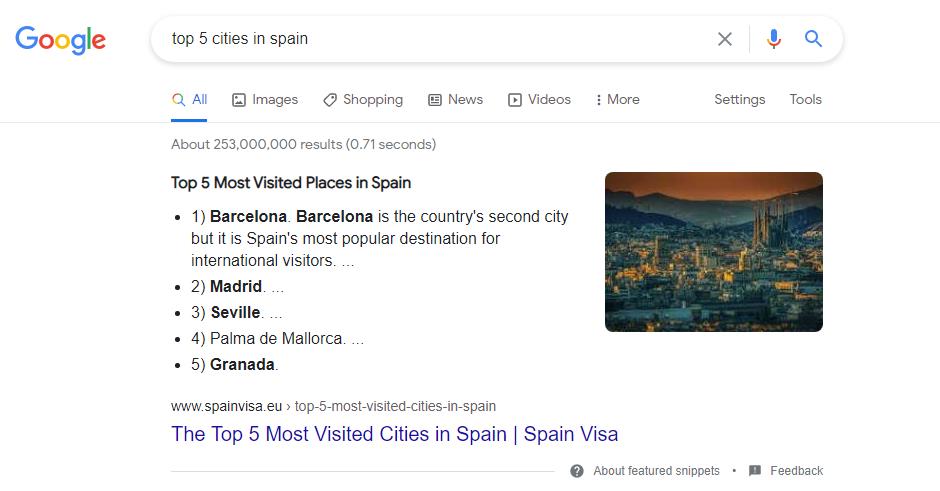 Many zero-click searches are perfectly natural. One example would be when the user searched, didn't find what they were looking for, then refined the search and then clicked. The first search would be zero click.
Similarly, likes my previous example, many just don't need you to click through regardless of which search engine you may use.
However, Google has been aggressively rolling out featured snippets in recent years and new ways of displaying search results that dissuade people from clicking through to a website.
If you have ever searched any list orientated terms (best of/top) then you will often (almost always) be greeted with a snippet showing you the bullet points from that search. While the featured snippet will be more likely to get the clicks than the other results, the is much less need to click through to any site.
This also happens when searching for specific information; Google will now index specific paragraphs to be used in snippets which will often show the exact information you are looking for.
Are zero-click searches bad?
Yes, no, maybe. It depends on your business and the objective of your website.
Small local business that are advertising their services probably won't suffer any negative effects. If anything, zero-click can be beneficial; things like maps and phone number searches can all end up being counted as zero click.
Anyone that earns money from advertising or that wants to grow a community and the overall traffic to a website will likely suffer to varying degrees.
The big concern is what are the long term prospects of this. In 2020, the search giant had more than 91% of the global market share worldwide and over 87% in the US. Google also controls a massive share of all advertising in the US, including more than 95% of search advertising and over 50% of display ads.
So any business that is reliant on the performance of their website to generate income is completely controlled by Google.